通讯地址:成都市龙泉驿区成龙大道888号经开区
(国家级)总部经济港A9、A10栋
邮政编码:610100
电 话:+86-028-86381158,15390437110 (销售部)
传 真:+86-028-86381158转101
E - mail:sales@tme.com.cn
VSP-100 Virtual standardized patient teaching system
没有此类产品
I want to make an inquiry
  Medical virtual simulation experiment teaching system
  VSP-100
  VSP-100 (Virtual Standard Patient) is based on mathematics, computer graphics, artificial intelligence and other technologies. It integrates relevant knowledge of basic medicine and clinical medicine to build a complete virtual machine based on human organs and system diseases. Case resources form a virtual simulated patient that can be used cyclically in teaching, with adjustable parameters, elaborating various disease mechanisms and training medical students for clinical diagnosis.
  Design Principle
  VSP-100 virtual standard patient takes the nervous system, respiratory system, circulatory system, endocrine system, urinary system, and digestive system as the core, based on the mutual feedback adjustment between the systems, with classic formula calculations, metabolic mechanisms as tools, with numerical changes, Three-dimensional animation is a form of display, which simply, intuitively and vividly shows the physiological adjustment mechanism of the human body, and quickly generates disease models by adjusting relevant parameters.
  VSP-100 virtual standard patient shows the whole process of the occurrence, development and treatment of a human disease by simulating the real patient's physiological mechanism, pathological changes, pharmacological effects, surgical methods and other aspects, and driven by physiological simulation Calculation, give the corresponding treatment results.
  VSP-100 virtual standardized patient abandoned the previous parametric linear use mode of medical virtual software, the open system parameter adjustable parameter mode is adopted, which is more accurate and close to clinical cases, to achieve better teaching results and play a comprehensive role in students The purpose of training. For example, the case of acute myocardial infarction shows the physiological mechanism and pathological changes by simulating the systemic circulation, pulmonary circulation and coronary circulatory system, and the clinical, physiological, biochemical and pathological performance before and after diagnosis and treatment through 3D models and modular operations. Thus a comprehensive display of the entire process of the disease.
  In order to ensure the scientific truth of the system, the knowledge of the VSP system comes from various medical textbooks, clinical new technologies, new standards, new guideline documents and various SCI journal publications including high impact factor journals. The system is also carefully guided by medical experts from different domestic medical schools.
  System Characteristics
  The VSP-100 virtual standard patient is an innovative medical teaching method. It introduces strict and standardized clinical management and operation processes and intuitively demonstrates basic medical knowledge of diseases to achieve natural integration of clinical and basic, helping medical students to learn better. The characteristics of various comprehensive medical knowledge are as follows:
  l Combination of basic and clinical
  The system consists of two parts: the left side is the clinical diagnosis, fusion consultation, and various clinical examinations; the right side shows the different mechanisms of the disease and various basic medical indicators related to it.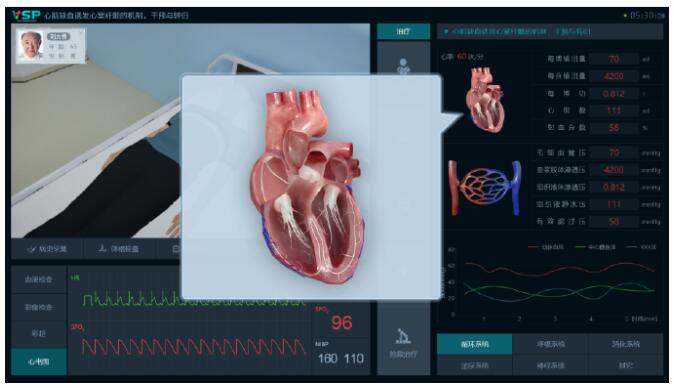 l Systematic
  The VSP-100 virtual medical human system is based on various medical textbooks, assisted by clinical new technologies, new standards, new guidelines, and various SCl journals that include high-impact factor journal publications, to build a systematic virtual patient knowledge system.
  l Normative
  Users can use the VSP-100 virtual standard patient system to simulate the entire process from consultation, observation, inspection to treatment of a certain disease patient. The system can respond to different treatment plans to generate different treatment results.
  The software process includes medical history collection, physical examination, auxiliary examination, treatment and other processes. It completely simulates the patient's diagnosis and treatment process in the hospital and trains students to standardize diagnosis and operation.
  l Authenticity
  VSP-100 virtual standard patients simulate disease in an environment that is closer to the actual situation of real medical treatment, truly achieving open diagnosis conditions, open diagnosis process, and open treatment results, so that students can understand more realistic clinical diagnosis process.
  1) Conditional opening: At the beginning of the software, the degree of disease development can be selected according to the classification and staging criteria of the disease. After the selected data is calculated, it will be reflected in the subsequent diagnosis and treatment process.
  2) Open process: In the subsequent treatment, different treatment methods and means can be selected, such as different surgical methods, different choices of drugs, different doses of drugs, etc.
  3) The result is open: for different initial conditions and treatment processes, different treatment effects will be obtained, and the treatment effect will be intuitively expressed by simulating the appearance of the person in the software and the changes in the monitoring data of medical instruments.
  l Intuitive
  VSP-100 virtual standard patient can intuitively present different basic medical theoretical knowledge of a certain disease, which is convenient for users to quickly learn and understand the basic theory of related diseases.
  l Intelligence
  VSP-100 virtual standard patient software introduces artificial intelligence technology, which can realize the voice conversation between the virtual patient and the doctor. The system can choose different treatment processes according to the patient's feedback status.
  l Comprehensive
  The software can detect multiple vital signs such as heart rate, blood pressure, respiratory rate, blood oxygen saturation, arterial blood pressure, central venous pressure, invasive arterial blood pressure, body temperature, etc. of the virtual patient, and focus on displaying different diseases for different diseases vital signs, so that students can understand the focus of detection of different diseases.
  The software can display a variety of test results, such as: blood test, liver and kidney function, blood coagulation, myocardial injury markers and other blood test results; whole body CT, X-ray, coronary angiography, dual-source CT and other impact tests; color Doppler ultrasound, electrocardiogram, Pathology and other examinations, these examination results are from real and representative cases in the clinic, to ensure the authenticity and reliability of the results.
  l Expandability
  VSP-100 virtual standardized patient software can generate different case scenarios based on input parameters. Combining with the human physiological experiment system can form a human experiment teaching system combining virtual and real. Combining with real simulators can generate advanced simulator systems.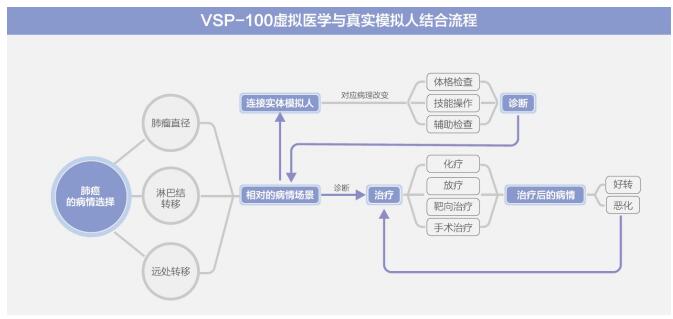 l Virtuality and reality combination
  Combined with the HPS-103 system, it can carry out experiments on the combination of human physiology and virtual reality. Related physiological experiments can be carried out through the HPS-103 human physiology experimental equipment, which can collect basic parameters such as student height, weight, heart rate, and pulse, and measure student heart rate, electrocardiogram, blood pressure , EEG, EMG, vital capacity, maximum expiratory volume, etc., and real-time monitoring of students' resting state, heart rate, blood pressure, respiratory rate, tidal volume and other changes during exercise.
  HPS-103 records the heart rate, electrocardiogram, blood pressure, heart rate, vital capacity and other information of experimental students into the system through the human physiology experiment, generates a medical digital person, and through the disease selection, the digital person simulates the disease, the disease-related parameters are changed, and then through VSP- The 100 system performs standard diagnosis and treatment of diseases.

Corresponding parameter set not found, please add it in property template of background
暂未实现,敬请期待
No content information display available
Please add data record on website background.